Please SAVE THE DATE for SPECTRUM OF SPORTS! This inclusive sports clinic and resource fair for children of all abilities is a free event hosted by The Arc Quinebaug Valley & NOW-Northeast Opportunities for Wellness. Event to be held on April 2, 2017 at Killingly High School from 12:00 p.m. - 2:30 p.m. for children ages 7 - 15. More information will be available in February 2017!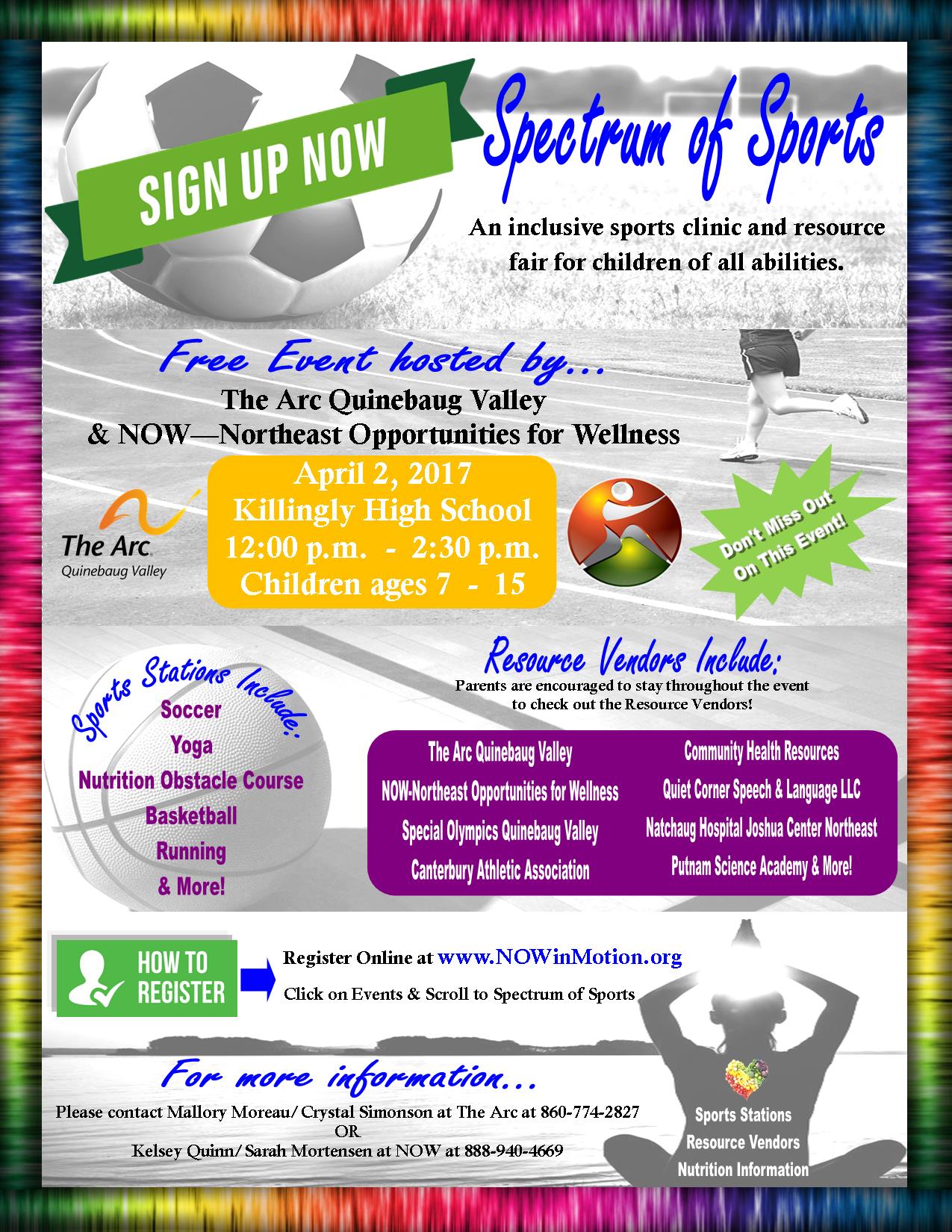 The Arc's 30th Annual Gardner Johnson Memorial Golf Tournament is going to be held on June 16, 2017 at Connecticut National Golf Club in Putnam, CT! If you are interested in becoming a SPONSOR or registering a TEAM, please click here to review the packet.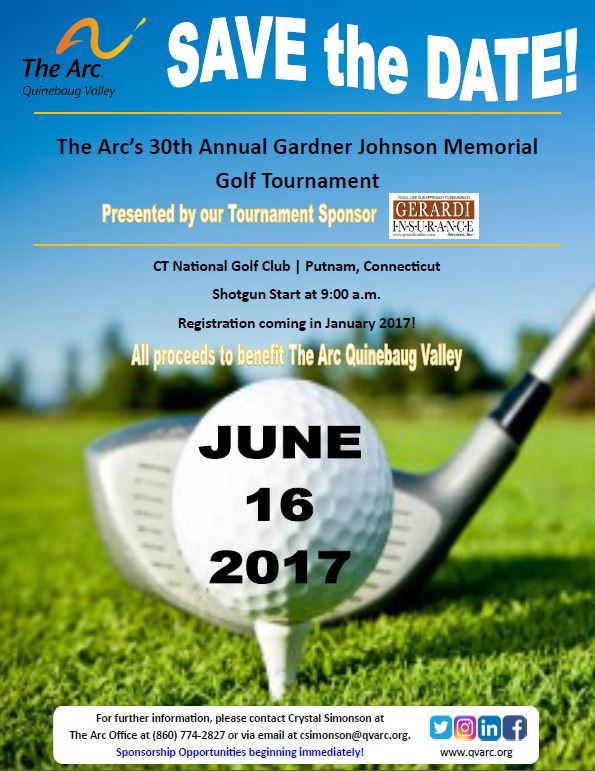 2017
March 2: Today is Spread the Word to End the Word! This is a campaign that asks people to pledge to not use the "R" word. This pledge can be done online at http://www.r-word.org/r-word-pledge.aspx. Our DSO and EDU departments helped to spread awareness by wearing their Spread the Word to End the Word tshirts!
March 1: Did you know that March is Developmental Disabilities Awareness month? Please make sure to help spread the word so everyone can celebrate such a wonderful month of abilities!
February 1: We are half-way through our "Biggest Winner Challenge" at The Arc! We have over 30 people registered and the weight is just slipping off of people! The motivation is very clear and we are very proud of our staff and individuals for committing to being healthier!
January 1: We hope everyone has a wonderful New Years Day and an even better New Years ahead!
2016
December 25: Merry Christmas from The Arc! Wishing you a wonderful holiday!
December 20: Today we received a grant check in the amount of $2,400 from Community Foundation of Northeast Connecticut Women & Girls Fund to help with costs associated with the Positive Choices/Healthy Relationships curriculum that will start in 2017. We are very excited about this and cannot thank the Foundation enough!
December 5: Today we received a check in the amount of $1,000 from Jewett City Savings Bank to help with costs associated with the new LVP flooring that was installed in our Recreation Room at our Cook Hill Office. Thank you very much Jewett City Savings Bank!
November 24: Happy Thanksgiving from our Arc Family to yours!
November 8: Did you vote today? Please get out there and vote for who you believe in!
October 6: Today, we received a grant gift from Charter Oak Federal Credit Union, in the amount of $3,000, to help purchase TWO new Project Redemption Bins! These bins will allow more opportunities for people to donate their cans and bottles to our agency, which helps to enhance the services at The Arc Quinebaug Valley! Thank you Charter Oak - we appreciate you!!
September 26: Tonight the Board of Director's met at The Arc's CLA home on Lafantasie Road in Danielson, CT. Not only did this location serve as a meeting place for the Board to discuss committee related items, but each Board member was able to view the home, meet the participants living in the home and talk to the staff on duty. This was a very fun night for all as we even had a cookout after the meeting was over! Thank you to all who helped make this possible that night - we appreciate all of you!
August 14: Today we had our 19th Annual Rubber Duckie Race! It was an extremely HOT day, but a successful one at that! We would like to thank all of our sponsors, volunteers, supporters, community members and so many more for helping ensure such a wonderful event! With over 3,500 rubber ducks sold, along with sponsors and donations, we grossed over $20,000 which will help to enhance services provided to individuals with disabilities at our agency. The first prize winner received a $500 VISA gift card! WOW! Thank you everyone for being part of such a fun day!
July 8: Today we had The Arc's 29th Annual Gardner Johnson Memorial Golf Tournament! We grossed over $45,000 and couldn't be happier by all of the community support! Proceeds will directly benefit individuals with intellectual and developmental disabilities! First Place was taken by Gerardi Insurance Services, Inc. with a score of 56 on the Par 71 course. Thank you to all of our sponsors, volunteers, Arc Board members, Adept Bodywork for complimentary massages, Stanley & Libera Acoustic Band for their entertainment, Clarus Studios Inc. for donating all of the pictures taken, Frito Lay for donated snacks for the event, and simply anyone that helped support this event in some way! We appreciate all of you!
May 6: Our Annual Membership Meeting & Awards Night Celebration was held this evening at The Mansion at Bald Hill. It was a wonderful time filled with laughter, happiness, applause and dancing! The food was amazing and the slideshow presentation truly captured some wonderful Arc memories throughout the year! Many awards were given out to very deserving recipients - the best awards were surprises! It is always nice to see pure joy one someone's face! We would like to thank everyone involved with this night for being supportive and ensuring the success of this event! You are all appreciated! Check out our photo album on this website for pictures! Pictures can also be found on our facebook page!
April 27: Tonight we painted for a purpose with Artique! The Arc held a fundraiser at our Cook Hill Location where people were able to paint for fun, as well as give back to a great cause! $10 of each fee per person that joined this night of painting was given back to The Arc! This will help to enhance our services! We thank everyone that participanted in this fundraiser, and we truly thank Lisa Andrews from Artique for making this night possible!
April 2: Happy World Autism Awareness Day!
March 29: Legislators voted on an alternative to Governor Malloy's plan on March 29th, the very next day after our Legislative Meeting. The deficit mitigation plan resulted in a cut of $3,393,681 from the DDS budget, however Day Services & Employment funding was spared. Hard works pays off, and although there is still a cut occurring, our voices were definitely heard , and we will stand together and continue to be heard.
March 28: The Arc hosted a Legislative Meeting tonight from 6:30 p.m. - 8:00 p.m. Over 60 people were in attendance, including State Representative Mike Alberts, State Representative Daniel Rovero, State Representative Christine Randall, Shannon Jacovino from The Arc CT, Arc Administrators, Arc Board Members, Arc employees, families who are and will be directly affected by these cuts, and community members. Parents of individuals with disabilities in the community stood up and spoke directly to the legislators about their hardships with the already under-funded DDS system. Tears were shed due to the fear and severity of these proposed budget cuts, but there was still a sense of hope in the air that the legislators could help stop these budget cuts from happening. Thank you to all that attended and supported our mission!
March 2: Today is SPREAD THE WORD TO END THE WORD day! This day is about spreading awareness about the hurtfulness of the R-word. Why does it hurt? The R-word hurts because it is exclusive. It's offensive. It's derogatory. This campaign asks people to pledge to stop saying the R-word as a starting point toward creating more accepting attitudes and communities for all people. Language affects attitudes and attitudes affect actions. Pledge today to use respectful, people-first language. WANT TO MAKE THE PLEDGE??It is very quick and easy to make this pledge. Click here: http://www.r-word.org/r-word-pledge.aspx.
March 1: March is Developmental Disabilities Month!
February 16: The Thompson Lions invited The Arc to their Annual Night of Giving tonight at Thompson Raceway! We are very excited for all the festivities tonight! Update: WOW! We were presented with a $500 donation at this event! Thank you so much!!!
January 12: The Arc's Golf Committee will hold its first meeting of the season today to begin planning the big event! If you are interested in being on the committee, please call our office!
January 1: Happy New Year!! We are looking forward to a wonderful year ahead!
2015
December 25: Merry Christmas!!
December 11: We had our Annual Arc Holiday Party today! There was lots of food, dancing, fun and even Santa Claus showed up for pictures! Thank you to DJ Al Berger for keeping everyone entertained and all of our Arc employees and individuals for making this a perfect festive day!
December 1: Today is Giving Tuesday! This is a day where people all over the world can donate to a charity or cause that is important to them. Please consider supporting The Arc by donating online today under "Make a Donation Now."
November 29: The Arc will be at the Holiday Dazzle Parade in Putnam, CT tonight! Will you? We have decorated the payloader (thank you to Rawson Materials for allowing us to do so!) and are ready to go! Start time is 5 p.m.! Hope to see you there!
November 25: From Thanksgiving crafts to Thanksgiving meals prepared by each department, The Arc Quinebaug Valley had a wonderful time celebrating the holiday! We hope everyone has a wonderful Thanksgiving filled with love, joy, laughter and togetherness!
October 6: It was a great morning for The Arc Quinebaug Valley! We had our ribbon cutting ceremony for The Arc Redemption Center at our new redemption business location ~ 96 Front Street in Putnam! If you are interested in donating your cans and bottles or having them redeemed, please come see us! We are very excited for this new venture and appreciate all of the support!
September 26: In honor of September being Direct Support Professionals Appreciation Month, The Arc hosted an Appreciation BBQ for all direct support staff and participants! It was a great day filled with delicious food, wonderful weather and great company! We truly thank all of our employees for their hard work and dedication to this agency!
September 23: The Arc hosted an informational session on KIDS ON THE BLOCK. The Kids on the Block, Inc. originated in 1977 in direct response to US Public Law 94-142 (Individuals with Disabilities Education Act), which required children with disabilities to be given the opportunity to be educated along side their non-disabled peers. Mark Riley, who represents a child with cerebral palsy, was the first puppet character created to fill the need of disabled children to have their non-disabled peers understand and accept them. Through Mark Riley, the children learned about cerebral palsy and began asking questions directly to Mark about his difference. The Kids on the Block, Inc. was launched because of this enthusiastic response from children. The Kids on the Block, now internationally acclaimed, has continued to grow over the years and offers programs on disabilities such as spinabifida; medical differences such as leukemia and AIDS; educational differences including learning disabilities; and social concerns including sexual abuse and alternatives to violence. The purpose of The Kids on the Block is to provide an educational puppet program which enlightens all children about disability awareness, medical/educational differences and social concerns. By extensively researching and developing relevant and timely topics, KOB addresses a wide range of issues that affect today's children. KOB has a strong commitment to supplying communities around the world with programs that address children's questions, concerns and needs. The type of education KOB programs provide will create positive attitudinal and behavioral change for present and future generations.
September 1: September 1st marks the beginning of Direct Support Professionals Month! We would like to take the time to recognize the dedication and accomplishments of The Arc's outstanding Direct Support Professionals and express our appreciation for their vital contributions to our community! This agency operates on their hard work and commitment, and for that, we are truly thankful! We appreciate all of you from the bottom of our hearts!
August 9: Our 18th Annual Rubber Duckie Race was held on August 9th at Rotary Park/Quinebaug River in Putnam, CT. The weather was stunning and we couldn't have asked for a better day filled will community support and excitement! We sold nearly 4,000 rubber duck tickets and raised over $20K from the event! The first place winner of the $500 VISA giftcard was Putnam Chrysler Dodge Jeep & Putnam Kia, and they donated the prize back to The Arc! This was not only a wonderful surprise, but will help to enhance our services by being able to buy supplies for our departments! Thank you to everyone that made this event possible! We appreciate all of you! For a list of our sponsors, click here. Make sure to check out our photo gallery for pictures of this event!
July 10: Our 28th Annual Gardner Johnson Memorial Golf Tournament was held on July 10th at Foster Country Club in Foster, RI. It was a day of laughter, great food, wonderful people, tremendous support, amazing raffle prizes, and success! Fundraising events such as this are what keeps The Arc a strong agency in being able to provide the supports and supplies needed by the people we serve. For a list of our sponsors, please click here. Check out our fundraising tab and our photo gallery for more details and pictures regarding this tournament!
June 12: We are in the midst of planning for our two big fundraising events coming up - The 28th Annual Gardner Johnson Memorial Golf Tournament on July 10th and The 18th Annual Rubber Duckie Race on August 9th! We are still looking for sponsors on both events, as well as golf teams, raffles, and any time that can be volunteered on the event days! Please contact us if you would like to get involved!
May 30: Our Annual Appeal letters have been mailed out! Please help support our agency and the people we serve! The community has always been so generous and dedicated to The Arc's mission and for that we are extremely thankful! You all have made a difference in the lives of individuals with intellectual and developmental disabilities!
May 1: Our Annual Membership Meeting & Awards Night Celebration was held on May 1st. It was a wonderful time had by all! Awards were presented, a slideshow of the past year was displayed, an amazing dinner was served, the slate of board members and officers were inducted and lots of dancing took place! The Arc would like to thank everyone for their hard work, efforts, and dedication to The Arc's mission -- it is all of YOU that truly make this agency shine! We look forward to the year ahead!
April 1: April is Autism Awareness Month! Let's all spread awareness! One way to show your support is by wearing BLUE on April 2nd! For more information on this month, please visit: http://www.thearc.org/what-we-do/resources/toolkits/autism-acceptance-month
March 25: We would like to thank The Crossings Restaurant & Brew Pub for welcoming The Arc Quinebaug Valley's Erika S. on her first day of Work Study! She is very excited to begin this journey with your restaurant and we truly appreciate it!
March 1: March is Disabilities Awareness Month! One way to show support this month is by joining the campaign "SPREAD THE WORD TO END THE WORD" day on March 4th! This campaign asks that everyone pledge to stop saying the R-word as a starting point toward creating more accepting attitudes and communities for all people. Language affects attitudes and attitudes affect actions. Please pledge today at: http://www.r-word.org/r-word-pledge.aspx